Rambler-News allows readers to get all news of the day. News is gathered automatically from the materials given by partners.
Enterra had a task to develop iPhone mobile application which allows users to get access to the news on the portal.
At first it was planned to build the application on optimized web-pages, arranged in rubrics with the help of rubricator. However during the development process we found out that despite the advantages of this approach, the application can't control the displayed content and can't track user page navigations. That is why we decided to work directly with the Rambler-News database. It allowed us to put all displayed news in one form, to create clear navigation and to keep in memory not only news text or photo, but the whole piece of news - with photos and a list of articles on the topic.
The application allows user to view main news or to use rubricator to find urgent news on the interested topic.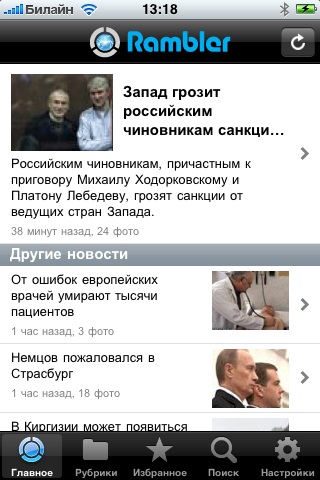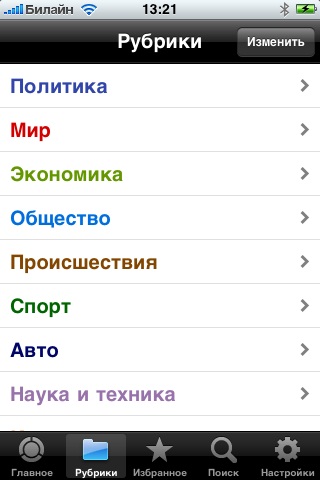 Users can form a list of rubrics interesting to him by turning off unnecessary ones and changing their order in a list. Settings allow users to change news update frequency and its topicality.
The displayed text is comfortable for reading as there are no unnecessary photos and big number of links (typical for web-pages). Moreover scalability option allows setting a font comfortable for reading. All the corresponding articles and photos are organized in a separate list at the end of the current news page. Texts of the articles are in a web-page format. If a user decides to get more details on the piece of news, the application offers him/her to open an interested link in Safari browser and continue reading.
Users also can publish news on Facebook/Twitter or send a text and a link to email.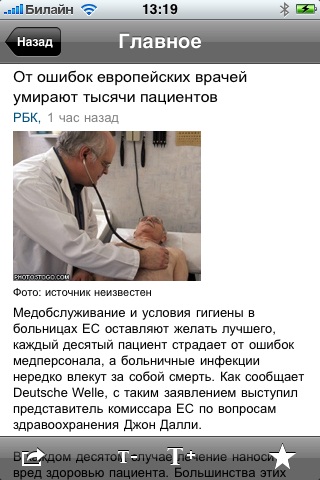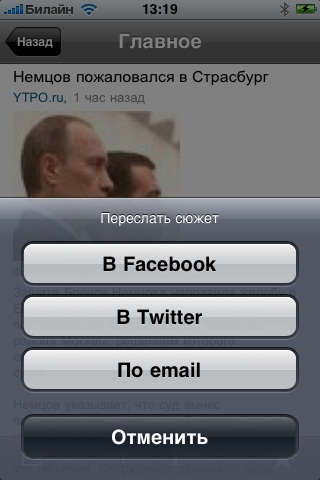 Besides, standard features of adding news to Favorite, the application has a mechanism which allows reading news in offline mode. Thus, user gets not only news from Favorite, but also all the news from his/her last download news lists.
Currently the application is approved by Apple and presented in AppStore for download.
Would you like to use our expertise in your project? Do not hesitate to contact us now
See software in action: