You have a fine business idea to launch on the Web 2.0 application market. But are you ready to face the fact that things you really would like to have, take about 20% of your budget only?
The remaining part will be consumed by things that you need even if you don't expect this:
Lot of standard social/collaboration features like blogs, forums, videos, photos, etc
Effective administrative capabilities, including statistics, content control, audit and blacklists
Keeping the balance between the performance and running costs for hosting platforms
Continuously improving the application by new features to keep the audience interested
Bundled together they leave no room for finest details of your idea. Risks not to hit the target audience grow tremendously.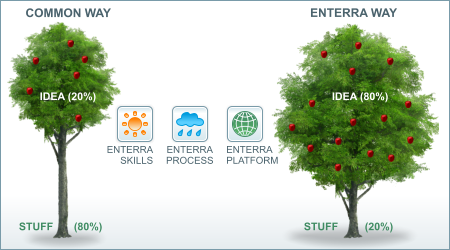 That's where you need our web software development service. Free more time for features you like (up to 80%) and still have all things you need!
Backed up by the mature software platform and large business experience it gives you:
Insightful client communication and high-experienced staff
The effective development process covering the entire application lifecycle
Proven web technological platform with 100% customizability according to client wishes
All common social features/collaboration tools with no additional timeline
Powerful and scalable architecture backed up by the unique application support platform - scalable from cheap single-host systems to large production clusters
Technology is chosen according to your needs – Java, PHP and others
What a pleasure it has been to have had Enterra by our side for the past few years. Indeed, we look forward to working with you for years to come. Your having been instrumental in assisting us through the developmental stages of our internet advertising-based search optimization tool has been, an...
By Don David Wilson, Managing Partner